People are searching for your product everyday. They either find you, or your competition. We get you found for every relevant search with long-term results and clear ROI.
[su_list icon="icon: arrow-circle-right"]
Website infrastructure and technical audits
On-Page SEO recommendations for website redesigns
Keyword research an strategy
Competitive audits and research
Link building
SEO analytics and reporting
[/su_list]
Did you know? When customers search for your product, 36% click on the top result.
24% on the second.
Just 1% look at results #9 and 10…and after that…just forget about it.
Audit & Analysis
Every SEO campaign starts with a thorough audit & analysis. We evaluate your online presence in full – your website, social media and anything else you own. We use an audit report with over 150 checks on it to ensure we review every area, as well as a competition analysis to see what your competitors are doing well. This helps us know exactly what we are up against.
Keyword Research
Keyword research is vital: we look for the most relevant to your business, and focus on ones that will bring in more sales. However we also look at information queries, long-tail phrases, and suggested searches. This gives us a full picture of what to target and the topics each landing page should be optimised for. Get this step wrong and everything fails.
Get it right, and everything falls into place!
On Page Optimisation
On Page is important, and if you get it right you solve a lot of issues that can be overlooked by others. We do far more than just meta-tags like other agencies. We improve your site speed, perform image optimisation, look at interlinking on the site, content analysis, headers and more. We also improve user experience to lower bounce rate and further help rankings.
Social Media Optimisation
Social media is used by Google to judge if a site is authentic or not. Got 1000's of backlinks but you have zero social accounts? Looks dodgy. We ensure you have a core setup of social media accounts, and if you already do, we ensure they are interlinked and their profiles are optimised to help your website do well in search engines (Check out our social media packages for how we can promote paid and organic traffic through those channels)
Link Building
According to research, links are the #1 factor for which sites get to position 1. You need a lot of backlinks to rank now, BUT, they have to be quality links too. We know the best places to get these links, and have over 20 different techniques we employ. As well as that, we tailor those links to your industry and location to further boost their relevance and power. Don't underestimate how complex, yet vital this area is.
Analytics & Reporting
You need to know how your campaign is going. We are open about progress and provide a standard monthly report in plain English, as well as including key metrics from leading reporting tools to back our data up. We also touch base with you throughout the campaign to ensure things are on track from your point of view and to ensure we know of any changes in the business we need to be aware of.
Google Maps
Maps are becoming more key, especially to local businesses. The maps appear at the top of most local searches now and typically only allow 3 results. WE optimise your Google My Business profile to ensure it is ready to be displayed on relevant searches, and then power it up with quality citations, which are used by Google to determine authority in an industry.
Penalty Recovery
Optional service. If you've been burnt by an SEO company previously, or have tried some tactics by yourself and it's all gone horribly wrong, don't panic! We can help. We will diagnose the exact issue, then work with Google to fix the underlying problems and clean things up. We then submit a reconsideration request to have Google release you from their penalty prison!
Your SEO questions answered
Is it safe for my site?
Yes. We focus on long-term, safe results. Unlike other firms we use safe methods as that is all that really works in Google for more than 3 months now anyway!
What's the contract?
We usually do a minimum 6 month contract. 6 months is sufficient time to show you great results. It also gives both of our businesses a trial to evaluate whether we are a good fit to continue working together.
How can I trust you?
We are the leading SEO firm in the whole of Cheshire. Our usual client retention is over 16 months and to date we have never got a client penalised.
Do you offer a guarantee?
We are not in control of future changes by search engines, and possibly even your website. For this reason, even though we are 100% confident in the results we can get you, our legal advisors wouldn't let us make any guarantees. Besides, no marketing method offers guarantees.
What happens after 6 months?
We will evaluate the project to decide whether we are a good fit to continue working together. If we are a good fit, the campaign will revert to a month-to-month agreement.
How much?
Every business and industry is different. Therefore we do bespoke pricing, however, there are some guidelines on what to expect below.
SEO is a monthly fee. The cost is different for every business as every search term, industry and business requirement is different – so we draw up a package tailored to your needs.
Our retainer fee begins at £400 per month, for a minimum of 6 months. We don't go lower, so please don't ask.
We always aim to give you a return on your investment. We always want to bring you loads more revenue than it costs to pay us. And if we don't think there is the opportunity – we will tell you that SEO isn't for you. We have done this with clients before, and we do it because it is only going to be a negative experience for both parties down the road.
Even though our packages are bespoke, on the right we have put some guideline prices to give you an idea.
If you're a bigger company and you need something more complex, hard-hitting and based around great content, please view our Outreach Marketing service. It really is an advanced service for companies who need more!
£400
Local Business with Low/Medium Competition wanting to rank in one location
£600
Local Business with High Competition
(e.g. usually Solicitors, Estate Agents etc)
POA
National Business with High Competition
£550
Local Business with Low/Medium Competition wanting to rank in 3 areas
£650
National Business with Low/Medium Competition
Do you want more sales for your business?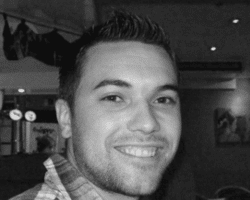 My name is Stu Davies and I own and operate CheshireSEO.org. I've been working in the digital industry for over 7 years and I've worked with all types of businesses to get them great results!
Unlike a lot of agencies, I don't have a fancy office in the middle of a city, with 20 staff running around, all to give the impression of success. I just do things smarter. I keep small, and concentrate on developing and constantly enhancing our processes, to give you the best results.
I only work with the best clients. Interested? Then get in touch, or read the full process we use in more detail below.
Download Our Full Process AND All 24 Link Building Tactics We Use To Generate Tons Of Traffic AND Rankings For Our £1249 Per MONTH Clients
What we do on every Outreach Marketing campaign
Every method we use to build quality backlinks
What steps we take to ensure your site is ready